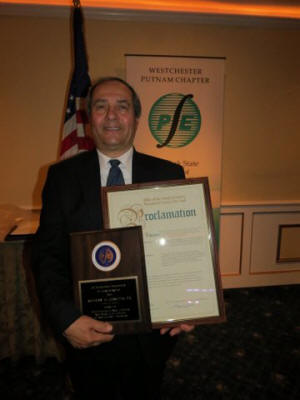 Tony Conetta ha ricevuto il premio " Outstanding Engineer in Government"
Congratulations from www.settefrati.net
On February 22, 2013, Anthony Conetta received the award of "Outstanding Engineer in Government". It was presented by the Westchester/Putnam Chapter of The New York State Society of Professional Engineers, Inc. as part of National Engineers Week. Tony was recognized for making a significant contribution to the engineering profession.
He is currently the Manager of the Westchester Joint Water Works (WJWW) which supplies water to approximately 120,000 people involving an annual consumption of 4.5 billion gallons per year. The water system includes two supply intakes, three pump stations, seven elevated storage tanks and approximately 250 miles of water mains and approximately 2,000 fire hydrants.
Image 0847: Antonio Vitti, Chris, Johnny, Nancy and Tony Conetta and Tony Vitti, Jr.
Image 0851: Tony Conetta
Image 0849: Antonio Vitti, Tony Conetta, Tony Vitti, Jr.
Image 0853: Chris, Nancy, Tony and Johnny Conetta.
11 marzo 2013